Description of this organization: Elliniko-Argyroupoli is a municipality in the South Athens regional unit, Attica, Greece. The seat of the municipality is the town Argyroupoli. The municipality has an area of 15.355 km2
Description of what they do in regards to urban gardening: In 2015, with the approval of the City Council of the Municipality of Elliniko-Argyroupoli, a site was designated for The Field of Elliniko, a communal vegetable garden that is ecologically managed. The Field's main goals are to increase the use of organic farming in urban areas, preserve and promote historic Greek seed varieties, share information with other organic farmers, help underserved social groups, strengthen community engagement, and increase cultivation in other open places. The "Pelliti" community, other organic farmers, and friends of the Field of Elliniko provide the traditional seeds from their home villages. Additionally, a seed bank is active and contains a number of endangered species. Crop protection is achieved via natural means. These include crop rotation and combination cropping, as well as the utilization of manure and self-produced compost, ash, and other naturally occurring substances. A team of roughly 20 persons, out of a total of over 100 voluntary friends, work systematically to maintain the Field of Elliniko as co-farmers. In the Field of Elliniko, decisions are made through frequent open meetings that adhere to the direct democracy, equity, and self-organization tenets.
The municipal social services of Elliniko and civil society organizations receive the vegetables produced (tomatoes, lettuce, aubergines, peppers, collard greens, etc.) for distribution to low-income residents, charitable organizations operating soup kitchens, the Social Grocery, and communal kitchens. Production, though, is not a goal in and of itself. The Field of Elliniko's primary purposes are instructional and demonstrative. 
In less than four years of operation, the self-managed Field of Elliniko has welcomed and educated students from schools of all levels, contributed with its cumulative knowledge to the establishment of school vegetable gardens, provided free distribution of Greek traditional seeds, raised awareness of agroecological issues, and actively participated in the establishment of an olive grove in a nearby area.
In contrast to consumerism, the Field of Elliniko collective encourages beneficial uses of urban space and opposes new development on existing open spaces.
For participating "co-farmers," it serves as a gathering place for socializing and political expression. Their primary motivators for engagement include the Field of Elliniko's political and social activism, organic farming efforts.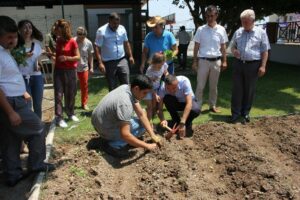 Address of the organization: 68 Kyprou Av., 164 52
Contact Phone of Organization: +30 213 2018 700
Email of organization: protokollo@elliniko-argyroupoli.gr
Website of organization: https://www.elliniko-argyroupoli.gr/
Facebook: https://www.facebook.com/DimosEllArg
Instagram: https://www.instagram.com/explore/locations/1018993070/-municipality-of-hellinikon-argyroupolis