Description of this organization: The Community Garden is a place of learning and teaching about healthy food choices, research and education, professionalism and culture: where we focus on people and where we discover organic urban gardening together through its application in everyday life. The garden stands on a disused athletic track. The space, which is municipal, was actually entrusted to an institute (Barberi) that still offers recreational activities to children with difficulties. A synergy was born between the institute, the association promoting the project and, of course, the institutions, in transforming and redeveloping this semi-abandoned urban area. 
Description of what they do in regards to urban gardening: The site of the vegetable garden is a paved area, on which raised beds resting on pallets were placed. This solution makes it easy to move the containers with a trans pellet. There was a desire to choose excellent raw materials and technologies: organic vegetables and soil, permaculture techniques, sub-irrigation with cruets, vegetable associations. The aim is to create a real "urban farm," where to inform and educate people who want to approach the issues of the environment and sustainability in general. In addition to crops, there is the intention to grow ome animals such as fish, rabbits and chickens. There is also interest in collecting and reusing rainwater, using photovoltaic panels to recharge cell phones, and organizing dissemination events. People who work in the garden include people with disability especially children that are hosted by the Barberi Institute and also ordinary citizens, foreigners, families, school groups, and people with fewer opportunities.
The garden is a community garden, namely a shared social garden. This implies that no  person is responsible for a single, individual container, but rather for the totality of all containers. The reward for those working on the garden is in the harvesting of vegetables, with the only rule being common sense and equal sharing. Management is thus divided democratically among the volunteers, according to a calendar drawn up according to availability.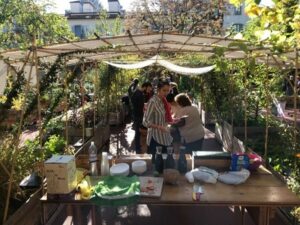 Address of the organization: Borgo Pinti, 76, 50121 Firenze FI
Contact Phone of Organization: N/A
Email of organization: info@ortidipinti.it
Website of organization:  http://www.ortidipinti.it/it/
Facebook: https://www.facebook.com/CommunityGardens
Instagram: https://www.instagram.com/ortidipinti/