Description of this organization: The Istituto Serafico for the Deaf and Blind is a non-profit Ecclesiastical Institution that promotes and carries out rehabilitative, psychoeducational and social-health care activities for children and young adults with physical, mental and sensory disabilities.
Description of what they do in regards to urban gardening: Within the extensive grounds of the Istituto Serafico (1.500 mq) and close to Assisi's city walls, an area has been identified as particularly suitable for location and exposure. Seasonal vegetables are grown here using traditional methods. The agricultural property of the Institute is also composed of arable land and olive trees, as well as a sensory park rich in aromatic species; within it, the guests of the facility will be able to conduct and assist in the strictly horticultural activity, but also in the stages of the process of production of oil and aromatic plants so as to take advantage of the ineluctable benefits of outdoor engagement, stimulation of the senses, and teaching small manual jobs to the people that come to the centre.
The project stems from the belief that, through the use of greenery, it is possible to complement extensive rehabilitation treatments, helping the facility's residents regain residual autonomy, with targeted therapeutic-rehabilitation paths. The project is an example of how "green is therapeutic" and succeeds in enshrining within it all the potential for the foundations of an inclusive society, one that knows how to welcome all diversity and reformulate its organizational, planning, teaching methodological and logistical choices to that end.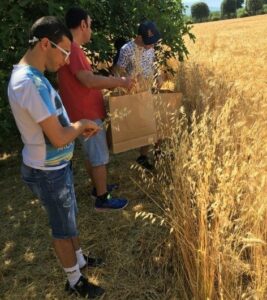 Address of the organization: Viale Guglielmo Marconi, 6, 06081 Assisi PG
Contact Phone of Organization: +39 075812411
Email of organization: accoltafondi@serafico.it
Website of organization: https://www.serafico.org/
Facebook: https://www.facebook.com/ilSerafico/
Instagram: https://www.instagram.com/il_serafico