Description of this organization: "Friends of the Earth Malta" has been active in the environmental field in Malta since 1985. It is an independent organization that is distinct from any political party. They are also not directly affiliated with any other environmental group in Malta but work with several social and environmental NGOs on issues that are of common concern and interest. Their main focus is the environment and they work to safeguard the environment of the Maltese islands. They work with residents of Malta to show them how to become more environmentally friendly and more sustainable in their daily lives. 
Description of what they do in regards to urban gardening: The Community Garden at Friends of the Earth Malta takes place at their headquarters in Valletta. They have managed to create an urban garden in the main yard that they have. This project started way back in 2019 and they have managed to turn what was once a barren concrete yard into a nice urban garden. 
Today thanks to this project, people from all walks of life and people of all ages meet regularly 3 times per week to take care of their garden, while they interact together. The garden is offering a space where these people can mingle around and socialize together, while they learn some new tips of now to grow crops in an urban way at home. 
The crops that they grow re then donated to local charities around the island.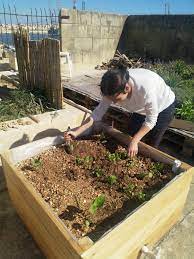 Address of the organization: PO Box 1013, South Street, Valletta VLT 1000. Malta
Contact Phone of Organization: +356 7996 1460
Email of organization: info@foemalta.org
Website of organization: https://foemalta.org/
Facebook: https://www.facebook.com/foemalta
Instagram: https://www.instagram.com/foe_malta