Description of this organization: The Earth Organization is a non-profit, non-governmental organization based in Greece that was originally established in 2010. Its goal is to consolidate the concept of Sustainable Development by providing non-formal experiential education to individuals of any age.
The Earth Organization's programs are implemented in a variety of locations throughout Athens' urban fabric, with a focus on schools, refugee accommodation structures, and the Model Environmental Learning Center created by the Organization in Ilion-Attica, known as the "Earth Center." For their implementation, the Earth Organization has formed alliances with businesses, local government agencies, academic institutions, charitable organizations, and a number of Civil Society organizations both within and outside of Greece.
The Earth Organization's actions are organized around three major axes:
1. Environmental Action and Educational Courses
2. Vulnerable Social Groups, Unemployed, Disabled, Refugees, Immigrants, and Seniors Social Integration Programs
3. Programs for Responsible and Sustainable Entrepreneurship
Description of what they do in regards to urban gardening: The "Center of the Earth" is a 25-acre urban park in Ilion. It serves as an environmental education center and a social meeting place for individuals of all ages. The organic vegetable garden is a point of reference, but so is the biodiversity garden, an area for local flora and fauna that demonstrates how strong nature can be even next to a dense urban area. Students and people visiting are informed and sensitized about biodiversity, the food chain, the functions of nature, and man's relationship with it, through educational initiatives by sociologists, agronomists, and environmentalists.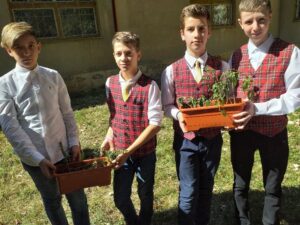 Address of the organization: 67 Dimokratis Avenue, 131 22, Ilion
Contact Phone of Organization: N/A
Email of organization: info@organizationearth.org
Website of organization: https://www.organizationearth.org/profile
Facebook: https://www.facebook.com/OrganizationEarth/